Hand Domination- Latina babe
Hand Domination brought you one talented gal to show her skills. Stella has two large tool under her control. The difference between the two tools is noticeably. Our Latina babe is disgusted by that small cock and starts stroking it as roughly as possible. This crazy Latina chick will brag tonight with her skills, so I'm sure you are ready to enjoy some fresh action. Just make comfortable and enjoy her!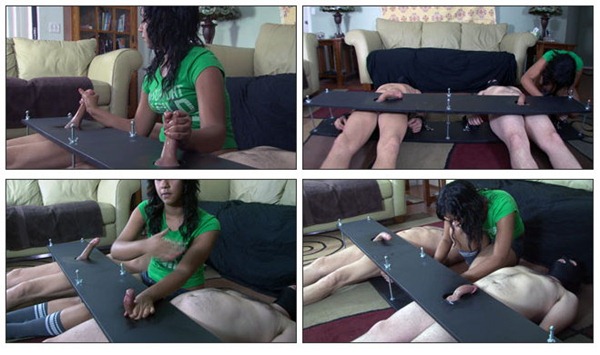 Stella was here before and we all know how talented she is. She also loves hard and huge cocks, not the small ones, that why tonight she will punish that small dick, slapping it and stroking it hard until it spray warm jizz on her hands. After a hard work, Stella's hands are all covered with sperm. Two lucky dudes are in the hand tonight and she manage to take good care of both, making the cumming for her and punishing their cocks. She is one of the naughtiest we had around here, so don't even think to skip this one. I'm sure you won't be disappointed by her performances as she'll milk two hard cock on cameras just for your viewing delight. After both tools are done cumming she releases the slaves. Enjoy!